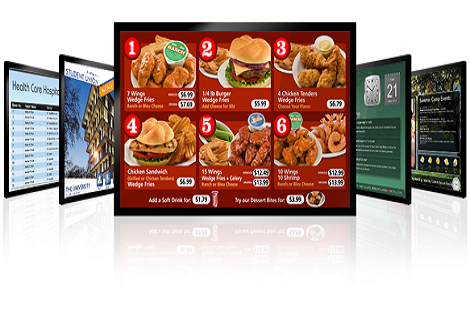 You see them more every day. Digital signs are helping companies and organizations communicate key information to their customers at the right place and time.  Whether it is at the airport, mall, gas station or restaurant, digital signs use compelling displays of video, text and graphics to get your attention and deliver a message.  With General Technique digital signage, your company can use this powerful technology to share information with your customers and "talk" to them when they are listening.
Present key business information with high-impact, rich-media presentations across a network of customer-facing digital signage screens.

Centrally manage your digital signage network.

Schedule and deploy custom content to any location.

Create unique content playlists for any number of screens.

Communicate using compelling video, text and RSS feeds.

Insert local adverting.
It's Easy to Use
From the network setup, to the central management and deployment of content, the system is easy to use yet powerful enough to meet any digital signage need.
It's Friendly and Flexible
Whether it's the ability to work with a broad spectrum of media files or it's ability to integrate with third party systems and programs, General Technique digital signage can be adapted to meet the needs of any business environment.For a complimentary digital signage consultation, call us today!